By Rosalie Rayburn / Journal Staff Writer
Published: Monday, March 19th, 2018 at 11:54pm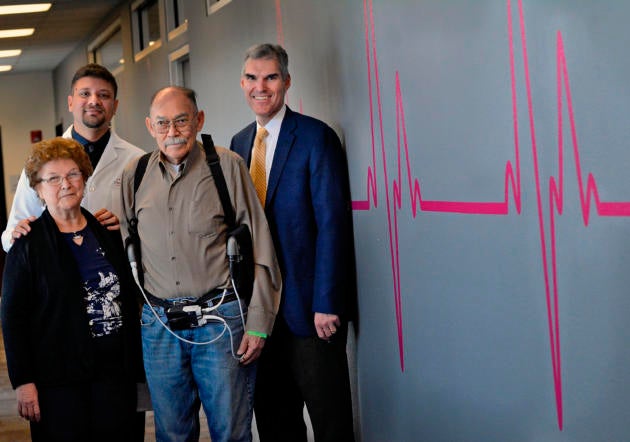 ALBUQUERQUE, N.M. — Arturo Madrid feels like he has a new lease on life, thanks to a medical procedure that wasn't available in New Mexico until a few months ago.
Madrid, 79, is the first patient in the state to have a left ventricular assist device (LVAD) implanted in his chest to help his weakened heart pump blood.
His wife, Pilar Madrid, said her husband was so weak before the surgery that she was "ready to be a widow."
New Mexico Heart Institute cardiothoracic surgeon Dana Booth performed the operation in late December at the Heart Hospital of New Mexico at Lovelace Medical Center.
"It's just huge that now patients can get this procedure in New Mexico," said Judi Everett, director of clinical operations at New Mexico Heart Institute.
Lovelace Health System and the Heart Institute have been working since 2009 to obtain certifications required by the Centers for Medicare and Medicaid Services to perform the procedure. Meanwhile, patients from New Mexico had to travel to hospitals in Salt Lake City, Denver and other locations to receive the device.
"There's a tremendous amount of paperwork making sure that all the aspects are covered. It's not just the surgery, it's taking care of them (the patients) after surgery, pre-screening, making sure you're doing the right patient for the right reasons," Booth said.
Dr. Faisal Zaeem, advanced heart failure cardiologist and medical director of the LVAD program at the Heart Institute, said the procedure is suitable for a patient who has a very weak heart and doesn't have a good prognosis.
Arturo Madrid, 79, in late December, shortly before he had a mechanical pump implanted in his chest. Madrid is the first patient in New Mexico to receive a left ventricular assist device (LVAD). Lovelace Health System offers the procedure through a partnership with New Mexico Heart Institute. (Courtesy of Pilar Madrid)
"Most of the patients who get this are home-bound or bed-bound because they don't have the energy to get out even to do basic shopping," said Zaeem, "This procedure isn't for everyone. It's meant for the sickest of the sick when it comes to heart failure."
Zaeem and the LVAD team did extensive screening to find the right patient. Madrid is from tiny Anthony in southern New Mexico.
He had open heart surgery to insert the mechanical pump just below the heart. The device is connected to an external battery and a computer that controls the flow of blood to the body.
"So for the most part, it takes over the function of the heart," said Zaeem.
The patient has to carry the battery and computer around with them at all times. Madrid has a hunting vest that allows him to carry them in a pouch at his back. Even, so, he said they sometimes feel heavy. When he is relaxing at home, he can plug the device into a wall socket.
Patients who receive an LVAD must be checked regularly and take blood thinners to prevent a clot from clogging the pump. Zaeem said the Heart Institute has been providing follow-up care to patients who had the device implanted elsewhere several years ago.
"For those patients, it's a huge improvement in the quality of life," said Zaeem.
Amanda Gabaldon, the former director of Project Heart Start which runs cardio-pulmonary resuscitation training programs, had a LVAD device implanted four years ago after suffering heart weakness during pregnancy. She had to go to San Diego for the surgery.
"If I had had the chance to have the LVAD procedure here it would have made a world of difference," Gabaldon said.