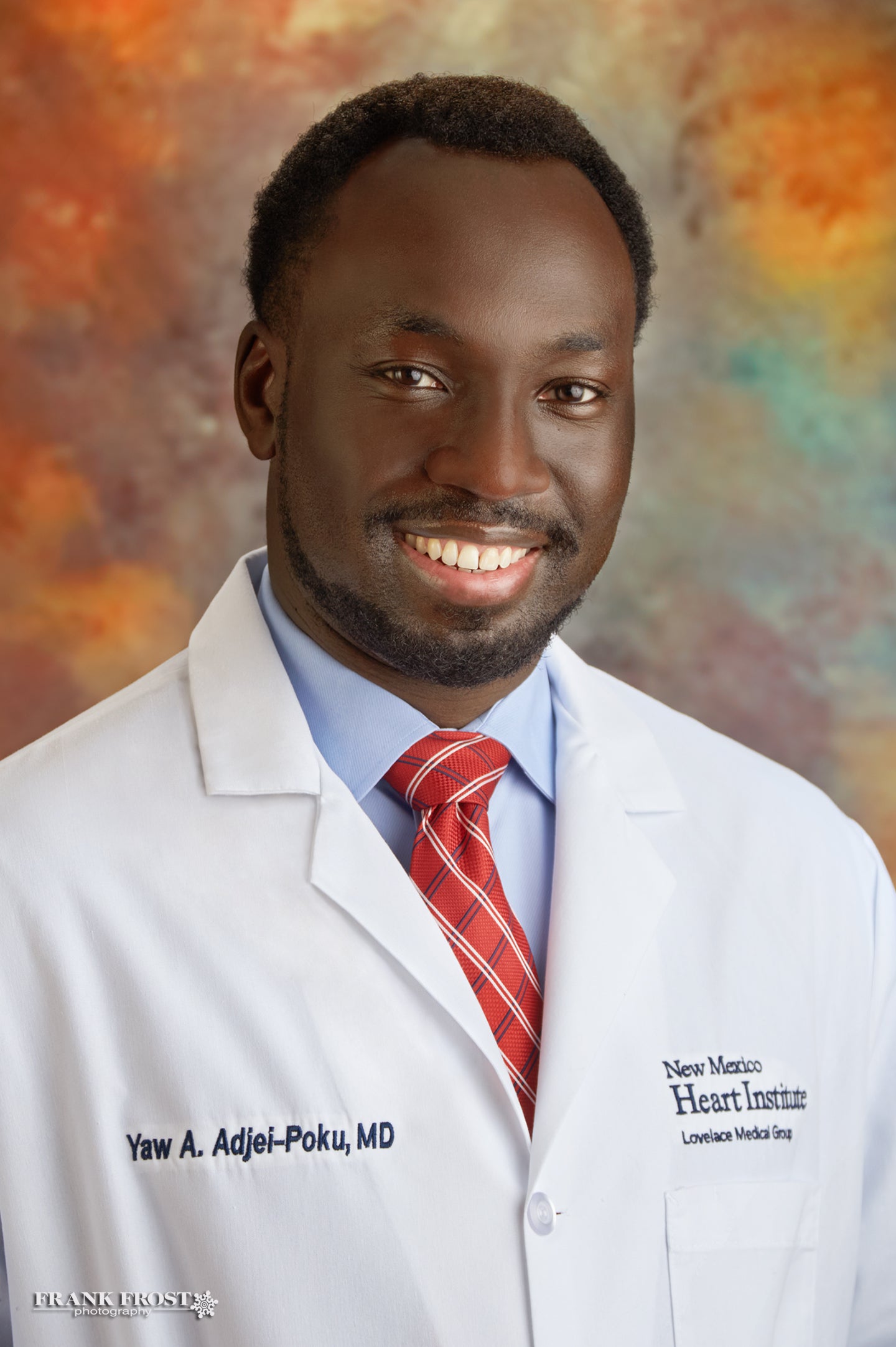 "We offer the most advanced cardiac rhythm management technology in New Mexico. The Heart Hospital of New Mexico at Lovelace Medical Center uses leading edge electrophysiology studies to pinpoint the cause of irregular heartbeats (arrhythmia)."
- Yaw Adjei-Poku, M.D., Chief of Electrophysiology
Our specialists use diagnostic information to make choices about the best course of treatment for each patient. We offer pacemaker insertions, ablation therapy, and advanced 3D imaging.
Common Types of Arrhythmias
Bradycardia
Atrial Fibrillation (A-Fib)
Heart block
Palpitations
Supraventricular Tachycardia (SVT)
What causes arrhythmia?
Problems with any part of the heart's electrical system can cause irregular heartbeats called arrhythmias (ah-RITH-me-ahs). During an arrhythmia, the heart can beat too fast, too slow, or with an irregular rhythm.
Atrial Fibrillation (AF or A-Fib)
Atrial fibrillation is an abnormal heart rhythm (arrhythmia) characterized by the rapid and irregular beating of the atrial (upper) chambers of the heart. It often begins as short periods of abnormal beating, which become longer or continuous over time. Often episodes have no symptoms. Occasionally there may be heart palpitations, fainting, lightheadedness, shortness of breath, or chest pain. The disease is associated with an increased risk of heart failure, dementia, and stroke.
High blood pressure and valvular heart disease are the most common risk factors for AF. Other heart-related risk factors include heart failure, coronary artery disease, cardiomyopathy, and congenital heart disease. Lung-related risk factors include COPD, obesity, and sleep apnea. Other factors include excess alcohol intake, tobacco smoking and diabetes mellitus .Healthcare professionals may suspect AF by feeling the pulse and confirm the diagnosis by interpreting an electrocardiogram (ECG). A typical ECG in AF shows no P waves and an irregular ventricular rate.
Healthy lifestyle changes, such as weight loss in people with obesity, increased physical activity, and drinking less alcohol, can lower the risk for atrial fibrillation and reduce its burden if it occurs. AF is often treated with medications to slow the heart rate to a near-normal range (known as rate control) or to convert the rhythm to normal sinus rhythm (known as rhythm control). Electrical cardioversion can convert AF to normal heart rhythm and is often necessary for emergent use if the person is unstable. Ablation may prevent recurrence of AF. It is generally recommend patients start on anti-clotting medication. Anti-clotting medications include warfarin and direct oral anticoagulants. Most people are at higher risk of stroke. While these medications reduce stroke risk, they increase rates of major bleeding.
Atrial fibrillation is the most common serious abnormal heart rhythm and, as of 2020, affects more than 33 million people worldwide
WATCHMAN™
The WATCHMAN™ device offers patients with non-valvular atrial fibrillation an alternative treatment plan to long term use of blood thinner therapy. The device is placed during a minimally invasive procedure in an effort to reduce the risk of blood clots from entering the bloodstream and reduce the risk of stroke for a lifetime. The implant of the WATCHMAN FLX™ is about the size of a quarter and is a one-time procedure. Over time, the patient may be able to reduce or stop the use of blood thinners. The WATCHMAN FLX™ implant is ideal for patients who have a history of bleeding, have trouble regulating their blood thinner levels, or those who lead active lifestyles and take blood thinners.
iCLAS™
As of January 2021, Heart Hospital of New Mexico has begun enrolling patients in the iCLAS™ U.S. IDE Clinical Trial Evaluating Ultra-Low Temperature Cryoablation for Persistent Atrial Fibrillation. This procedure involves using a catheter that produces extreme cold (cryotherapy) to create scar tissue within the heart to the area(s) causing irregular heartbeats. The scar tissue helps by stopping irregular electrical signals from being transmitted. The iClas™ catheter dramatically reduces the length of an ablation procedure, leading to better outcomes and faster recovery time for patients. This procedure is ideal for patients who have AFib and otherwise normal heart conditions where medication has not improved symptoms.
Stereotaxis Magnetic System
The Stereotaxis remote ablation is a robotic procedure used to cure cardiac rhythms safely and effectively. Our cardiac electrophysiologists perform the most atrial fibrillation and left atrial ablation procedures in the state, including the successful treatment of some heart rhythm disorders that were previously untreatable. This expertise has led The Heart Hospital of New Mexico to become a referral center for patients whose medical and invasive therapies have not been successful at other centers. The Heart Hospital of New Mexico is a training center for electrophysiologists from around the world.
Implant Expertise
Each year, the cardiac electrophysiologists and surgeons at the Heart Hospital of New Mexico implant hundreds of permanent and temporary pacemakers, defibrillators and other medical devices. Each device is carefully chosen to ensure its specific features are tailored to the patient's exact needs. Our experienced surgical teams frequently perform one-of-a-kind procedures to ensure the best possible device function and outcome.
Cardiac Lead Extraction
Research suggests that as many as 20 percent of patients with defibrillators can expect a lead malfunction within 10 years. We have the experience, technology and surgical support to perform minimally invasive extraction of broken, infected pacing and defibrillator leads. We remove leads in the safest and simplest way possible using the highest standards and practices of technology in the state.