Overview
Our interventional services are backed by state-of-the-art technology and surgical suites, and a team of outstanding physicians and surgeons. Our brand new catheterization and electrophysiology labs and dedicated cardivascular operating room assist our physicians in optimizing patient outcomes.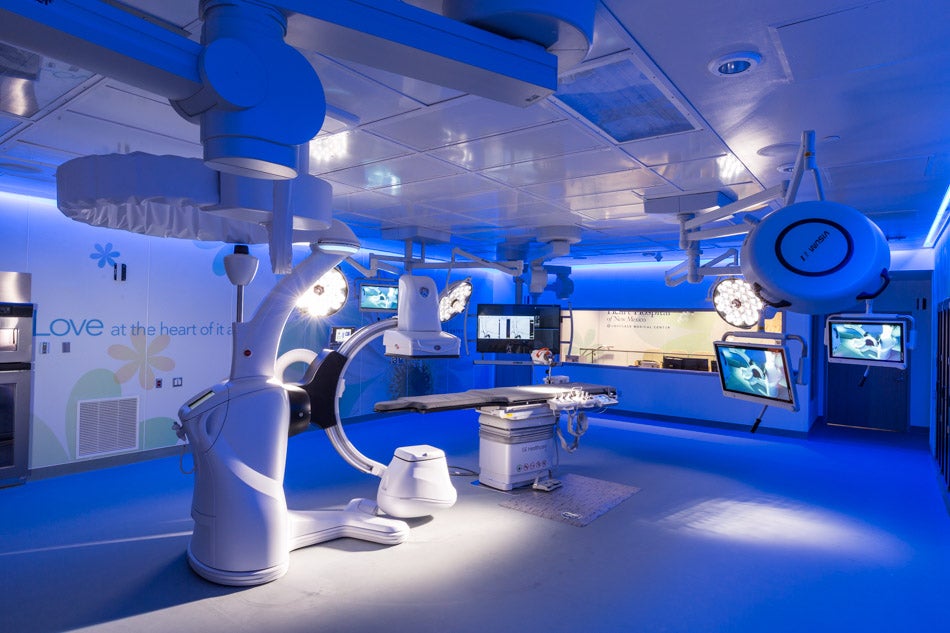 Hybrid Operating Room
Our Hybrid Operating Room is equipped with advanced imaging services that allows our heart team to integrate minimally-invasive procedures with surgical capabilities. Such hybrid procedures may include AAA repair, laser lead extraction, transcatheter aortic valve replacement (TAVR) and carotidendarectory using transcarotid arterial revascularization (TCAR).
Dedicated Cardiovascular Operating Room
Our operating rooms are designed around the communication needs of the surgeon and their team. Allowing the surgeons to optimize support in the ICU, ER, lab and with the patients. Audiovisual capabilities are fully integrated to provide surgeons with real time information for each operation.
Cardiothoracic Surgery
Our heart and chest surgeons are on the leading edge of diagnosing and surgically treating conditions of the heart, lungs and chest by using the latest innovations and techniques in heart surgery.
Cox Maze Procedure
The maze procedure is a surgical treatment for atrial fibrillation also known as a surgical ablation. The surgeon uses a minimally invasive approach to create scar tissue using radio waves, freezing, or microwave or ultrasound. The scar tissue, which does not conduct electrical activity, blocks the abnormal electrical signals causing the arrhythmia. Instead, the scar tissue directs electric signals through a controlled path, or maze, to the lower heart chambers.
Left Ventricular Assisted Device (LVAD)
For patients who have reached a stage of advanced heart failure where your heart is no longer able to pump enough blood to meet your body's needs, a left ventricular assist device (LVAD) may be an option. The LVAD is a surgically implanted mechanical pump that is attached to the heart and powered by an external battery, working with the heart to help it pump more blood with less stress on the heart.
Transcatheter Aortic Valve Replacement (TAVR)
This minimally invasive surgical procedure repairs the valve without removing the old, damaged valve. Instead, it wedges a replacement valve into the aortic valve's place. This procedure is used for those who may be at a greater risk for open heart surgery.
Cardiovascular Surgery
Surgery on the heart or vessels is often used to treat complications of heart disease when blood isn't reaching the organ tissue, to correct congenital heart disease or to treat valvular heart disease from various causes.
First of its kind procedures. Our skilled team of interventional cardiologists earned the reputation for offering cutting edge vascular care and treatment in the state. Conditions treated may include:
Aneurysmal disease
Cerebrovascular diseases
PE/DVT
Pelvic Congestive Syndrome
Peripheral arterial disease
Transcarotid Artery Revascularization(TCAR)
Venous disease
Abdominal Aortic Aneurysm(AAA)
An abdominal aortic aneurysm occurs when the large blood vessel that supplies blood to the abdomen, pelvis and legs becomes enlarged. This may be treated with a graft or an endovascular stent graft.
Limb Salvage
Peripheral Arterial Disease (PAD) results in narrowed arteries which can block the flow of blood. Left untreated, PAD can lead to amputation, heart problems, and even death. The Heart Hospital in New Mexico is at the forefront of the diagnosis, medical management and treatment of conditions such as acute limb ischemia. Our surgeons offer first of its kind technology to reduce the number of amputations in New Mexico.
Venous Disease
Constant leg pain, tiredness or heaviness may be signs of a more serious condition, such as peripheral arterial disease or venous disease. Patients experiencing these symptoms may consider asking their doctor for a referral to see a vascular specialist at the Heart Hospital of New Mexico at Lovelace Medical Center.
Transcarotid Artery Revascularization(TCAR)
For patients with carotid artery disease a stent will be implanted to stabilize the plaque and prevent future strokes.