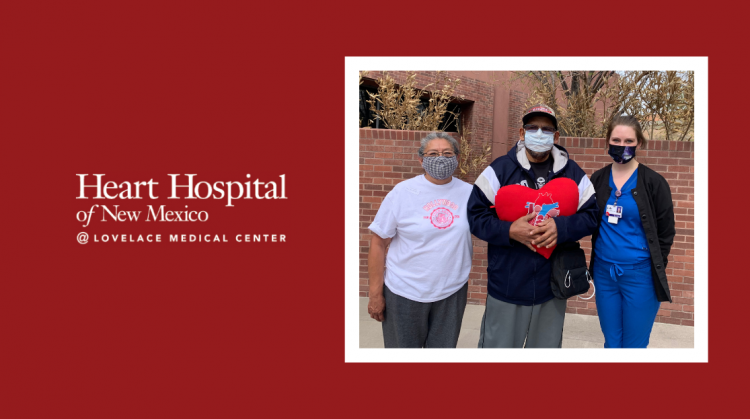 Jose M., 58, experienced his first heart attack in 2010. Since then, he's experienced two more heart attacks. Although they weren't major heart attacks, these incidents have led to multiple procedures and stents placed throughout the years. By 2020, Jose says he could feel himself getting weaker and needed to be seen by the doctor more frequently.
"In early 2020 that's when they diagnosed me, saying that my heart was getting weaker and weaker," Jose said. "They started discussing getting me on the heart transplant list, but then COVID happened and everything came to a halt."
At the onset of the coronavirus pandemic, Jose was instructed to continue to monitor his heart and his symptoms and stay safe. About a year into the pandemic, Jose returned to the Heart Hospital of New Mexico at Lovelace Medical Center (HHNM) with symptoms and was held there overnight for observation.
"They wanted to get me in for surgery right then and there," he said. "They explained the Left Ventricular Assist Device (LVAD) and everything and they told me that it could be done here at the Heart Hospital. At that point, it was still between a few different courses of action, so I asked if they could give me a month to discuss my options with my family and decide between a transplant or the LVAD. They gave me the whole month to decide and then they ended up doing the surgery on March 22, 2021."
Jose's cardiologist, Faisal Zaeem, M.D., referred him to cardiothoracic/vascular surgeon, Dana A. Booth, MS, MD, who performed the surgery.
"Dr. Booth was a great surgeon; really took care of me during the procedure and put me at ease," he said. "I still see my team of Dr. Laura McDermott and Dr. Zaeem post-procedure. They're wonderful."
While the team at HHNM was ultimately able to calm Jose's nerves and reassure him the LVAD procedure would be beneficial to his health, getting the LVAD wasn't an easy decision.
Instead of replacing the heart with a new one, the LVAD is surgically implanted to assist the heart pump blood throughout the body, therefore, lessening stress on the heart. Patients eligible for the LVAD have reached end-stage heart failure meaning their heart cannot pump enough blood to support itself during rest or activity. The LVAD can relieve symptoms of heart failure and provide energy, stamina and better quality of life for patients.
"It was kind of hard, it was," he said. "One of the reasons I went with the LVAD is because getting the heart transplant would've meant moving to Denver. That option wasn't going to fit my lifestyle, I wasn't going leave my family, especially with the [COVID-19] virus going around and everything, people couldn't even really visit me. I was assured there was a great team here at the Heart Hospital that would take great care of me, that I was in safe hands."
During his stay in February 2021, when the LVAD was first brought up, Jose had an opportunity to speak with a patient who had just received his own LVAD.
"I actually got to talk to one of the patients that was there at the hospital," he said. "When I was there that first week, they asked me if I wanted to talk with him. And I got to meet him and ask him questions and just find out how he felt and how he made the decision to go through with it. It was really helpful to talk to someone who'd been through it."
The decision to go through with the procedure wasn't an easy one, but after talking with his cardiology team, surgeons, family and LVAD coordinator, Lily Jackman, Jose was sure of himself and his decision.
"I'm very satisfied with the outcome of the procedure," he said. "It was a decision I knew would be hard but I had to come to terms with the reality of it, knowing the LVAD made the most sense for me. They were still asking me after that if I wanted to be put on the heart transplant list as well and I told them no. I decided this was it, you know, whatever happens with this happens. I'm just grateful for the time that has been given to me with this LVAD."
Jose's LVAD coordinator, Lily Jackman was an extremely impactful person in his journey.
"Despite COVID-19 protocols, my entire family was able to come in and get trained on how to help me with my LVAD and batteries," he said. "We live outside of Albuquerque, Lily even came out to the fire department in our county and trained them on the LVAD so they'd be prepared to help in case of emergency."
These are the sort of things that mean the most to Jose and his family. These genuine acts of caring made Jose's experience feel comfortable like he was amongst close friends, not just medical professionals trying to get a job done, and Jose's thankful for all his interactions at the Heart Hospital of New Mexico.
"I am so grateful for everything, everything that happened there," he said. "The aftercare continues to be great and everything's good with my appointments. Everyone's really happy every time I go back. When they see me, they give me encouragement and they're just amazed at my progress."
Jose left the hospital only two weeks after the surgery, an impressive feat that speaks to his positive attitude, strength and support system.
"When I left, they kept telling me my new birthday is March 22, I have two birthdays now," he said." It was great. Although it's a big lifestyle adjustment, it was a good experience and together we all got through it. I'm so thankful."