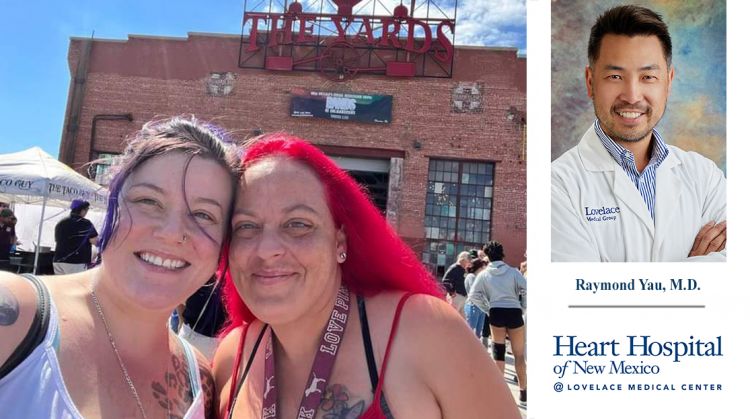 Amber Medina thought the anxiety she was feeling was just the ordinary stress of daily life. Sure, the 38-year-old Albuquerque resident had a lot going on, as she had recently decided to go back to school and learn a new trade as a certified automotive technician.
Still, her boyfriend noticed that something was affecting Amber. For three straight days, he asked if she was okay. "I'm fine," she always told him.
Then one day on her way to school, Amber could tell something was wrong, so she called Lydia, her best friend and classmate. "I'm going to park my car at the school," Amber said. "Meet me there and take me to the hospital."
Three days later, Amber woke up at the Heart Hospital of New Mexico and was told what happened to her while she was unconscious.
Her Heart Stopped Pumping
Shortly after Lydia delivered her to a nearby hospital, Amber had a seizure and went into cardiogenic shock, a rare medical condition that means her heart suddenly stopped pumping enough blood to meet her body's needs. In other words, Amber flatlined. "Apparently," said Amber, "I was having a heart attack for a few days and I didn't know it."
Cardiogenic shock often occurs in patients who suffer heart failure, a heart attack (acute myocardial infarction), a blood clot in their lungs (pulmonary embolism) or other conditions. These patients often have a very high mortality rate.
After being revived, the decision was made to send her to the Heart Hospital of New Mexico by medical transport. During this trip, she flatlined again. Fortunately for Amber, she received quick, life-saving care from the cardiogenic shock team at the Heart Hospital of New Mexico. She was put into a chemically-induced coma to reduce the effect of the trauma and give her body time to heal.
Dr. Raymond Yau, an interventional cardiologist at the Heart Hospital of New Mexico, did not think she would make it. "Her recovery was not expected. But she kept surprising us with continuous improvement," said Dr. Yau. As Amber recalled, "he told my family to prepare for the worst and think about donating my organs."
Amber's condition was so critical that she had more than a dozen nurses sit two at a time in her room around the clock in order to monitor her condition. "Their efforts were heroic," said Dr. Yau.
Surgery and a Miracle Story
A few days into her coma, the nurses called and told him that Amber was trying to wake up. "What do you mean she's trying to wake up?" he said. "He came down to see me and saw that I was trying to wake up," said Amber. "As I was waking up, I was able to move my fingers and my toes."
The day she woke up, her parents and five brothers called her their miracle story. Her father was so pleased that he bought pizza for the entire nursing staff.
Dr. Yau told her that he had to surgically install a pump in her heart to keep her blood flowing. He also put a stent in one of her arteries that had collapsed and caused the cardiogenic shock.
While Amber is still healing from the event, it does look like she has turned a corner, unlike many other patients who experience cardiogenic shock.
The management of cardiogenic shock patients remains highly variable, as the condition that generated the shock can differ greatly from patient to patient. However, there are certain processes and treatments that can apply to them all.
"The reason why we implemented a cardiogenic shock team here," says Dr. Raymond Yau, program director of the cardiogenic shock team at the Heart Hospital of New Mexico, "is that cardiogenic shock protocols reduce the variation of care. These protocols assist the early identification of diagnoses and expedite treatment.
"The Cardiogenic Shock Program at the Heart Hospital at Lovelace Medical Center is unique to the southwest region," says Dr. Yau. "No other hospital in the area can provide what we offer. We are always striving to be the premier heart recovery center of the southwest."
If you or your physician would like to learn more about the cardiogenic shock program at the Heart Hospital of New Mexico, read more on our website.