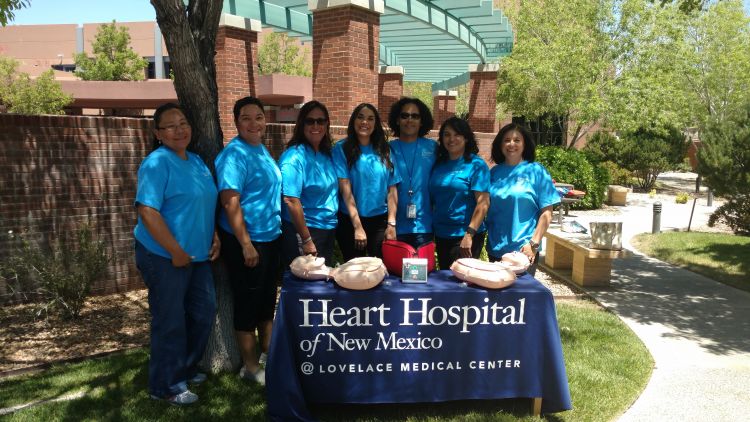 Each year, more than 320,000 people go into cardiac arrest when their heart suddenly stops sending blood to the body and brain. Survival depends on immediately receiving CPR. Yet, the majority of the time, people are not in the hospital when this happens. What if no one around them knows what to do? This is the reason Maria Atencio, manager of the chest pain/STEMI program at the Heart Hospital of New Mexico at Lovelace Medical Center, and Devin Lujan, provider relations liaison with Lovelace Health System, joined forces to teach the Albuquerque community hands-only CPR through Resuscitation Rangers, a volunteer program staffed by Lovelace employees. Through education, lives will be saved.
"90 percent of out-of-hospital cardiac arrest victims don't survive," shares Devin. It is a statistic that can be startling – especially when you consider that could mean witnessing a loved one suffer from cardiac arrest and feeling helpless. "Cardiac arrest occurs in the home or residential setting 70 percent of the time. It could likely be someone you know and love. Fortunately, CPR can double or even triple survival after cardiac arrest."
Often, formal CPR training may leave many feeling uncomfortable recalling exactly what to do – especially when someone's life depends on it. In fact, fewer than 40 percent of people who experience cardiac arrest outside of a hospital setting receive CPR, because people are afraid or unsure of what to do. The Resuscitation Rangers, following American Heart Association guidelines, are working to empower the public to save lives with hands-only CPR, which focuses on two steps:
1. Always call 911 first.
2. Push hard and fast in the center of the chest.
The goal is to deliver 100 compressions a minute. "If compressions are given to the beat of the song Staying Alive, you should perform 100 to 120 compressions a minute," shares Maria.
Resuscitation Rangers officially launched during Heart Month – February of 2016. At the heart of the program are Lovelace employees volunteering their time outside of their regular job duties. A combination of clinical staff who are certified in Advanced Cardiovascular Life Support (ACLS) serve as team leads, along with nonclinical personnel, who have been trained by the team leads, go out into the community to offer this training. Additionally, they teach participants about Early Heart Attack Care (EHAC), which includes recognizing the early signs of a heart attack, seeking immediate emergency medical attention, and proper use of an Automated External Defibrillator (AED).
Along with hosting free Lovelace seminars to teach classes, Resuscitation Rangers conduct in-community training sessions at a variety of venues in Albuquerque. As word begins to spread, more people have signed up or requested private classes for their organization. "At our first Silver Elite training event, attendance was so high, we had to start a waiting list," shares Devin.
Today, more than 400 people have been trained by the Resuscitation Rangers to assist someone in need of medical attention. "People feel they are walking away with a lot of information," shares Devin. "They are assured that even by calling 911, they are becoming an early cardiac caregiver."
"They are our deputies to go out and fight heart disease," adds Maria. "I believe, as a result of this education, there will be a higher rate of survival from cardiac arrest in our community."