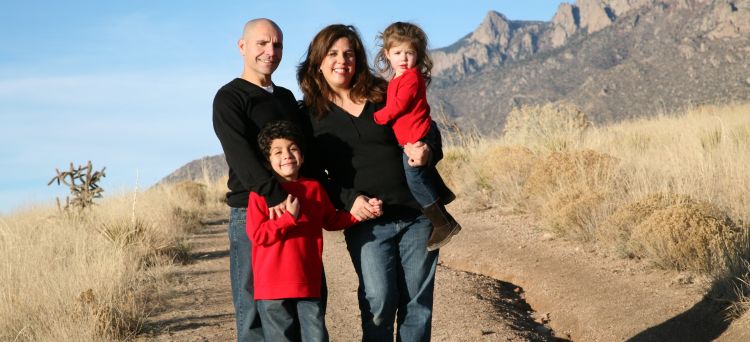 Chris Serino, an Albuquerque Fire Department fire fighter, was boarding a flight home from Washington, D.C. in the spring of 2014, when he noticed a rash on his arms and legs. "I had taken an Aleve and it looked like I was having an allergic reaction," he recalls. When he got home that evening, Chris took a Benadryl, hoping to relieve the symptoms. That next morning, however, they only got worse. "The rash had spread and I was really swollen." Chris went to several doctors to try to figure out what was wrong and tried medications to relieve the swelling, which appeared to finally be working.
"I started getting chest pains, so my wife, Reina, took me to the Emergency Department," he says. Everything turned out to be OK and he was discharged to go home around midnight.
Early that next morning Reina was already up when she heard Chris. "I guess I made a noise," he says. "That's when I had my heart attack."
Reina called 911.
"I had coded," the husband and father of two says of reliving the day - April 5, 2014 - that changed his life. He was only 43 years old.
Frantically listening to the 911 operator go through the steps from the other end of the phone, Reina began CPR on her husband. It had been years since she had taken CPR training, but she knew Chris depended on her in this moment. "She was terrified," he says.
Paramedics arrived minutes later and continued CPR. "I was down about 10 minutes," Chris says. "They finally got me back."
Chris was rushed to the Heart Hospital of New Mexico at Lovelace Medical Center. He had suffered a heart attack and was in cardiac arrest when he arrived. A team of doctors and nurses worked quickly to prepare Chris for a heart catheterization, where doctors were able to open the blockages in his heart – one 80 percent and another nearly 100 percent.
After a week of recovering in the Heart Hospital, Chris was transferred to Lovelace Rehabilitation Hospital. "That's the first thing I remember," he says. "I woke up in the van on my way to the rehab hospital."
Chris began the grueling journey to gain back what his heart attack and cardiac arrest had taken away. "At first I couldn't walk or talk," he remembers. "I couldn't do anything really." From morning group therapy sessions, to one-on-one training in the gym, swimming in the pool and speech therapy, Chris worked day in and day out. He says it really made a difference having a team, especially his trainer Ronnie, by his side every step of the way. "Ronnie was awesome," he adds. "He did a lot for me."
Chris furthered his therapy at Mentis hospital in El Paso, TX focusing on neuro-rehabilitation and speech therapy. After nearly two months, he returned home to his wife and two children, Paolo, 12, and Sophia, 7. "My wife and kids," he explains, "are the ones who inspire me to continue to get better."
Two weeks later, he was ready to get back to work at the Albuquerque Fire Department. "I was cleared to go to work, but I couldn't go back to my previous job," he shares of not retuning as a driver behind the wheel of the fire truck. "There was a new cadet class coming in and I was able to work with the cadets. It was great, because I could run with them and help them make it through cadet training." The 18-week cadet training program was also rehabilitation for Chris as he continued to get stronger and more coordinated. "Although I was there to help the cadets, it was helping me also."
Nearly two years after that fateful day in April of 2014, Chris has returned to the field and is back to his normal duties driving the fire truck. He continues to go to speech therapy and says that is the only deficit he faces from his near-fatal heart attack.
"I'm happy to be alive and be with my wife and kids," he says. "The people I work with are a great group of people. I really wanted to get back to my job. My cardiologist, Dr. Charles Kim, has been key in helping me."
Heart disease was not on Chris' radar when he suffered a major heart attack. He was athletic and stayed in shape for his job and his hobbies – soccer and running. Chris was not what heart disease "looks" like. He discovered however, that heart disease doesn't always come with a warning sign and that it is important to know you risk factors, including family history. "Going way back, I have a relative who died in his thirties from a heart attack," he says. Unknowingly, the blockages had been building in his arteries at a young age as well. "When I took that Aleve and had the allergic reaction, I took medication for the swelling, but Dr. Kim says the plaque that had been building up broke off, as a result of the medication, and blocked the arteries."
Help reduce your risk of heart disease by talking about your risk factors with your health care provider. If you do not have a provider, please call Care Concierge at 505-727-2727 to find a provider near you.