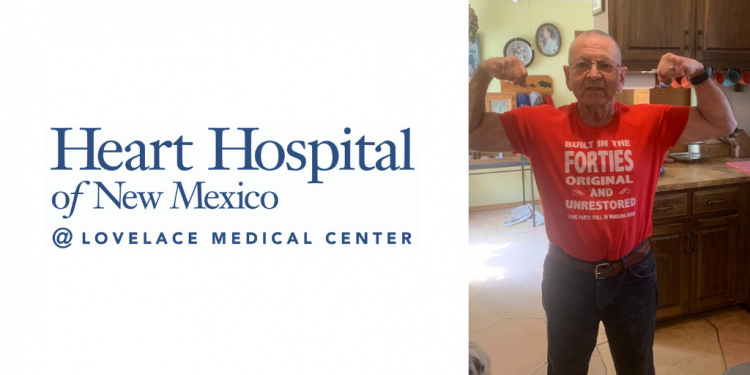 In 2010, about two weeks before his hospitalization, Albert Gonzales began feeling dizzy during walks with his wife. These dizzy spells were incapacitating, requiring Albert to stop and sit down to catch his breath. He also noticed an uptick in his weight, gaining 20 pounds, with no change to his diet or exercise routine.
With all of the strange symptoms he was experiencing, he decided to make an appointment to see his primary care provider. When his provider wasn't leading him to any answers, he asked to be referred to a cardiologist to try and get to the root of the problem.
At his first appointment with the cardiologist at New Mexico Heart Institute/Lovelace Medical Group, his EKG came back fine, but an ECHO test revealed an urgent issue. The specialist told him he was very sick and needed to be hospitalized and put on oxygen immediately. At this point, it was difficult for Albert to even physically walk to the door of the exam room.
Without hesitation, he was admitted to the intensive care unit (ICU).
There he met with an infectious disease specialist who diagnosed him with gram-negative bacteria. Gram-negative bacteria cause infections including pneumonia, bloodstream infections, wound or surgical site infections and meningitis. In this instance, the bacteria caused Albert's aortic valve to become infected. This posed a severe threat to Albert's health, because the infection was causing his aortic valve, which is supposed to open when the ventricle contracts to allow blood to flow and then close to prevent blood from flowing backward into the ventricle, to remain open. This ultimately led to shortness of breath and edema, which is excess fluid in the lungs.
After meeting with a respiratory therapist, he had to be intubated and was experiencing pulmonary edema. His doctors explained to him that he would need surgery.
Two days after undergoing the surgery, he was able to get off the ventilator and oxygen and was even walking. He continued to make great progress. He remained in the hospital for 18 days following the procedure and spent another six months at Lovelace UNM Rehabilitation Hospital working with a cardiac rehab specialist.
Feeling better and better each day, Albert resumed powerlifting training 10 months after this surgey and began competing again as a powerlifter by the end of 2011.
He continued actively participating in competitions until 2017, when he again experienced shortness of breath during his regular warm-up routine. He knew something wasn't right and quickly scheduled an appointment with his provider.
By the time of his appointment, he had begun gaining weight again and experiencing edema in his ankles. After running some tests, doctors told him his aorta was 4.5 times its original size and that he needed to get a special valve inserted as soon as possible.
He received a trans catheter aortic valve replacement (TAVR) surgery at the Heart Hospital of New Mexico at Lovelace Medical Center in April 2017 and was able to go home only two days later.
Albert spent four months in congestive heart failure, which caused a fair amount of damage to his heart muscles. But, with intensive rehab therapy working with the team at New Heart Fitness and Health, he was able to strengthen the muscles and return to weightlifting six months after the second operation.
Albert's active lifestyle contributed largely to his overall successful recovery.
He continues to prioritize his health by staying active and checking his blood pressure and oxygen stats daily. Miraculously, despite the trauma of two invasive procedures, Albert has never experienced a heart attack or atrial fibrillation (AFib).
"Everyone at Lovelace Medical Center and Heart Hospital of New Mexico was fantastic," said Albert. "The medical teams really advocated for me when I needed help the most, and for that I'm grateful."
At 76 years old, Albert still works out three days a week with his wife and participates in the local Strong Man competitions on Saturdays!
If you're experiencing abnormalities, including shortness of breath or unexplained fatigue or weakness, visit hearthospitalnm.com to find a provider and schedule an appointment today.