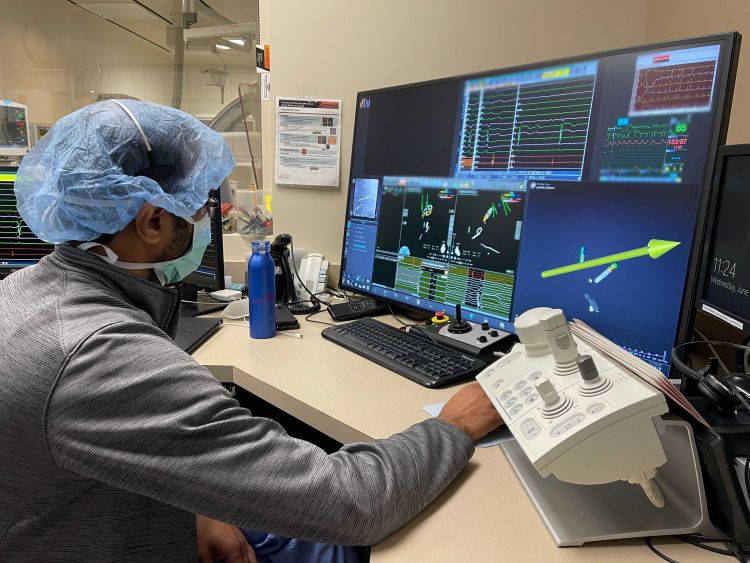 Cardiac ablation is a minimally invasive procedure used to help patients with an abnormal heartbeat (arrhythmia), including atrial fibrillation (AFib), paroxysmal atrial fibrillation, persistent atrial fibrillation and atrial flutter; typically, when medication hasn't worked.
The procedure utilizes two main forms of energy: either radiofrequency ablation (RFA) or cryoablation. During RFA, heat is used to effectively burn or destroy heart tissue that's "misbehaving." Misbehaving tissue transmits inappropriate electrical signals through the heart, in turn disrupting the heartbeat causing symptoms that may include extra beats, a racing heart or skipped beats. Conversely, the cryoablation method uses extremely cold temperatures to freeze or destroy areas of heart tissue to achieve the same goal.
The cardiac electrophysiologists at Heart Hospital of New Mexico at Lovelace Medical Center (HHNM) perform the most atrial fibrillation and left atrial ablation procedures in the state, including the successful treatment of some heart rhythm disorders that were previously untreatable. HHNM's team of experienced electrophysiologists from New Mexico Heart Institute/Lovelace Medical Group (NMHI), includes Yaw A. Adjei-Poku, M.D., Michael Bestawros, M.D., MPH, Michael Hoskins, M.D., Sean Mazer, M.D., FHRS, FACC and Sandeep G. Nair, M.D., CEPS-A, use the most advanced cardiac rhythm management technology in New Mexico. Utilizing the latest innovations in technology to perform cardiac ablation substantially reduces the length of the procedure, leading to faster recovery times and consistently better outcomes for patients. Based on current research, clinical trials and experience, our electrophysiologists have chosen to use the iCLAS™ and the Stereotaxis Magnetic System to perform cardiac ablation at the HHNM. The device used in any given procedure is decided upon by HHNM's dedicated team based on several factors including the specific cause of the arrhythmia.
The iCLAS™ (Continuous Lesion Ablation System™) delivers cryoablation through a catheter with interchangeable, pre-shaped stylets which enables unlimited shapes of cryoablation to be delivered anywhere within a 110mm area using a single catheter. This method uses 20 electrodes to effectively reduce the duration of a cardiac ablation procedure and is often recommended for patients with AFib who haven't had success with medication to improve symptoms. This system also includes a diagnostic tool that provides a real-time intracardiac electrogram (EGM), which records changes in electrical signals in the heart, during cryoablation. This tool may eliminate the need for any additional electrocardiogram (ECG) testing after the cryoablation procedure.
The Stereotaxis Magnetic System is a robotic procedure that is also used to cure cardiac arrhythmias. The system uses a soft and flexible magnetic catheter that's inserted into a blood vessel in the leg and navigated to the heart to deliver a blade of energy that isolates or burns heart tissue to correct faulty electrical signals in the heart. This revolutionary process mitigates the shortcomings of traditional catheters which are difficult, less effective and often caused mistakes.
If you're experiencing an atypical heartbeat pattern or recently received an abnormal EKG reading, you may be a good candidate for cardiac ablation.
For more information about heart rhythm disorders and available treatments, or to schedule an appointment with an NMHI provider, click here.