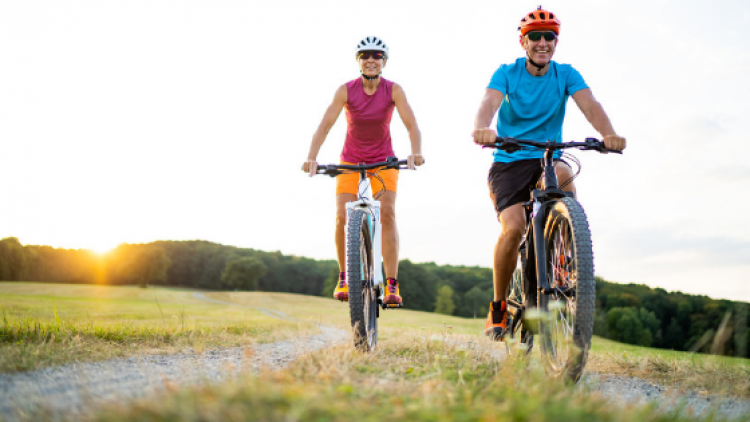 Summer is the perfect time to take your fitness routines outdoors, including your aerobic activities. Also known as cardio, aerobic exercise is a form of cardiovascular conditioning meaning "with oxygen." Aerobic exercise increases your breathing and heart rate, and helps to keep your heart, lungs and circulatory system healthy. Regular aerobic exercises can prevent conditions like obesity, high blood pressure, diabetes and poor cholesterol levels, which can lead to heart attack and stroke. Experts recommend getting at least 150 minutes of moderate aerobic exercise, or 75 minutes of vigorous activity each week. Want to get your heart rate up and don't know where to start? Keep reading for aerobic exercises to try this summer.
Hop in the pool
Cool off and enjoy the health benefits of swimming. Swimming is one of the best forms of aerobic exercise, simply because it is a total body-strengthening workout. Aquatic exercise is easy on the joints and an excellent way to build strength and endurance.
Start a garden
Gardening is the ultimate mind-body workout. Immersing yourself in nature can help lower your blood pressure and stress levels, not to mention provides us with a healthy dose of Vitamin D. Tasks such as planting, raking, digging and weeding are actually considered "moderate-intensity" physical activities. Get out and grow!
Hit the trails
Save the stationary bike for the colder months and take your cycling outdoors. Similar to swimming, biking is a low-impact exercise and is a powerful cardio workout.
Walk it out
Brisk walking is one of the easiest forms of aerobic exercise, simply because you do not need any equipment (just a comfortable pair of walking shoes). Walk at a pace that raises your heart rate to a comfortable, moderate intensity, and keep it there for the duration of your workout.
Always speak with your health care provider before beginning a new exercise routine. To make an appointment with a New Mexico Heart Institute/Lovelace Medical Group provider, call 505.841.1000.